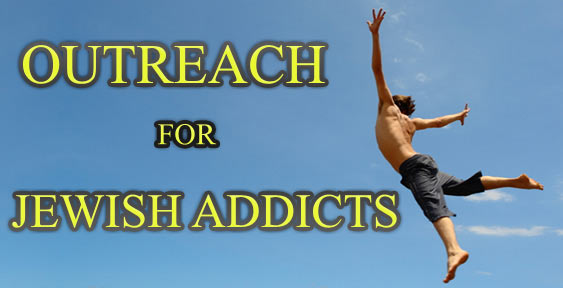 About Us
We at OJA are "Orthodox and Ultra Orthodox" Jews Like many others around us have fallen into the trap of Addiction. We were in denial and tried to hide it for way too long until we lost so much because of our Addictive behaviors. Some of us lost our Homes, Families, Friends, and Businesses. We stopped believing in ourselves and we sadly lost Belief in "Hashem", God, and our Higher Power, We lost the connection that we felt for so many years being on a path of Happiness and Fulfillment. We came to a "Void and Emptiness". Our Soul Was Lost

Our Journey - How We Arrived


Like most Addicts the journey back to Recovery and Sobriety only happens when we hit Rock Bottom. It happens after an Over-Dose, time spent in Jail, Hospital, or Mental Institution, etc.. with so much Guilt, Shame, Blame, Pain and Suffering.
When we from
OJA
have finally Overcome our Denial, we were introduced to a program that is the most effective treatment modality for addiction called the Twelve Step Program of Alcoholics Anonymous (AA). Through it, we reached recovery and rediscovered an even stronger
Jewish
connection to Hashem.
Continuous Education


Upon taking the first step in that program which is "We admitted we were powerless over our addiction, that our lives had become unmanageable." We from
OJA
continued our journey back to a Genuine Peaceful and Meaningful life. We found our way back to Real Spirituality as we have known it to be before this all started. We from
OJA
gained an even closer
Jewish
connection to Hashem and Torah and Mitzvoh's, with a NEW meaning and purpose of our lives.
When The Spirituality Comes Back There Is No Need For Mind Altering Substances
.
How OJA. Outreach For Jewish Addicts Was Founded.
Step 12:" Having had A Spiritual Awakening, We from
OJA
Took Upon Us To Deliver This Message To Other Addicts."Our experiences have led us to believe that Hashem wants us to make it our mission to reach out and help other
Jewish Addicts.
Just like we from
OJA
have been slaves to our addiction and have been able to free ourselves, it is our obligation to help others to do the same.
Giving Back
As we
OJA
write these words we can successfully proclaim that we have already saved Forty Three Lives. Yes, Forty Three
Jewish
Neshomes, (souls) and tens of people around each one of them got their lives back with true peace of mind. Our professional and Spiritual Interventions from our
OJA
staff have worked. With
OJA's
knowledge and constant contact with many Rehabs and other available programs,
OJA's
strives to offer and advise the right Referrals for each individual according to his/her needs.
OJA's
main Office is in Monsey NY we have helped
Jewish
people Adults and Adolescents from Brooklyn NY - Lakewood NJ - London - Israel . We are already affiliated with approximately Forty Five Rehabs. Once an individual is placed, we continue to help them by educating the Staff about Kosher Food , How and When we do our Davening (Prayers) ,as well as our YOMIM TOVIM (High Holiday's) and Shabbos.
OJA staff are "Male and Female"
Jewish
C.A.S.A.P
"Certified Addiction and Substance Abuse Professionals"
who have the tools to Educate
Jewish
Families and all people who care about the addict and his baffling disease. Since we went through it ourselves,
OJA
counselors continue to hold on to this process of growth by helping others and going to meetings and being around good people.
"Al Ta'amin Be'atzmecho ad Yom Moischo"
"Do Not believe In Yourself Till The Day You Die".
Fighting addiction cannot be done alone.
Recovery is A Growth Process, Relapse is An Interruption of The Growth Process
Call 845.659.4181 or E-Mail us at: info@jewishaddicts.org